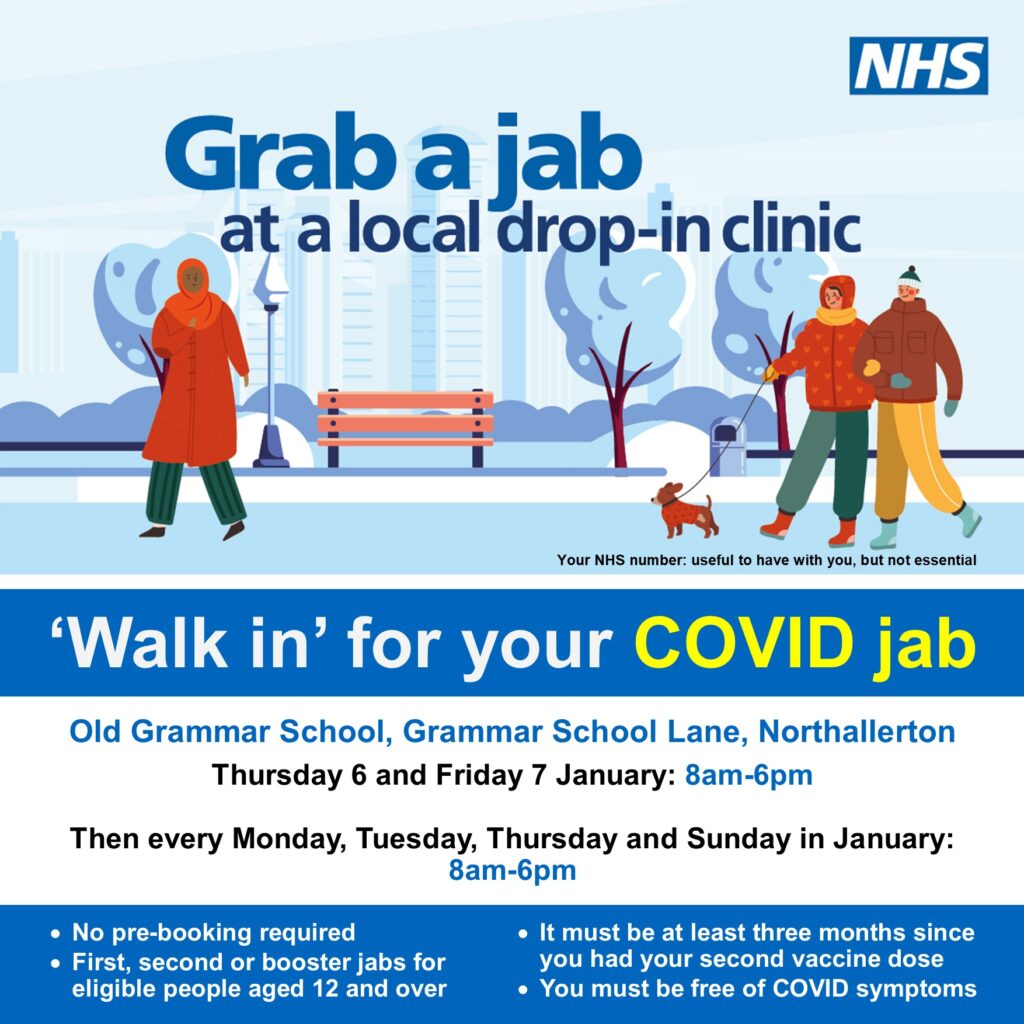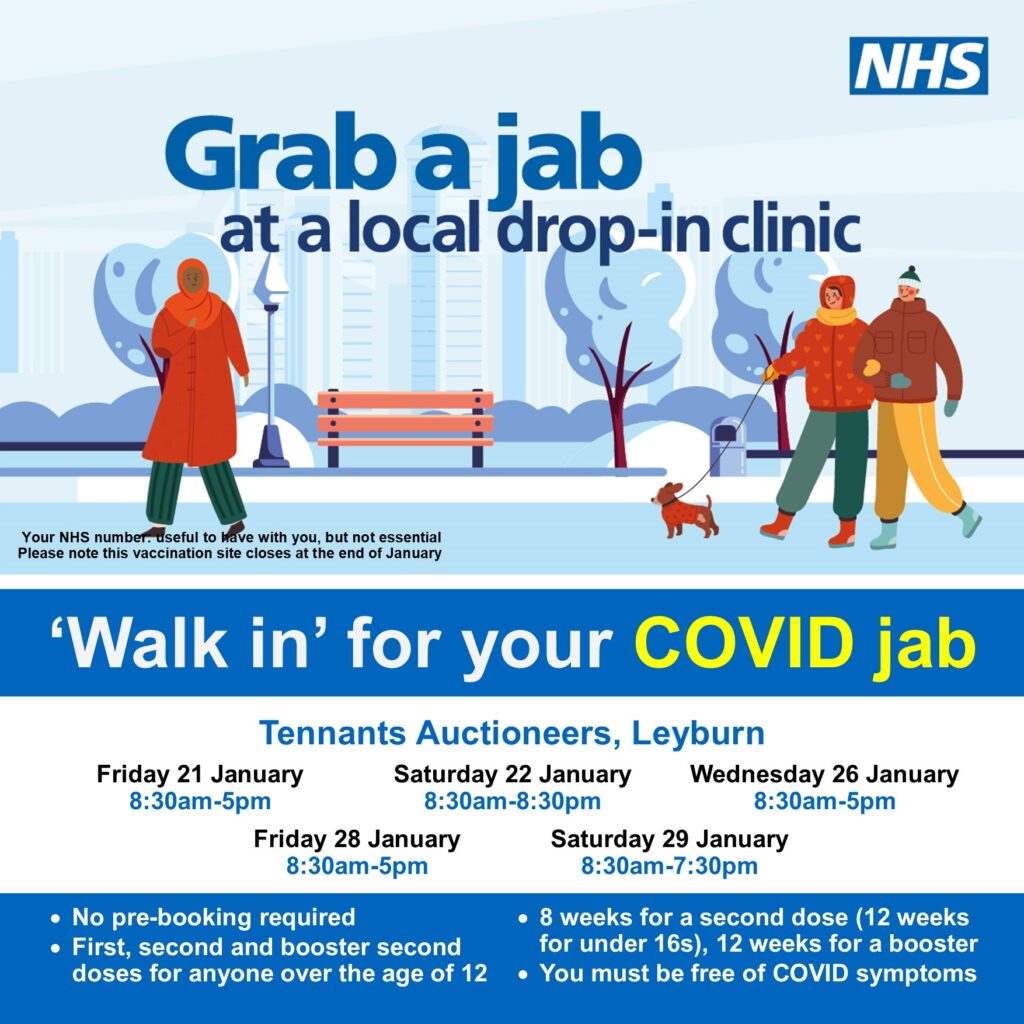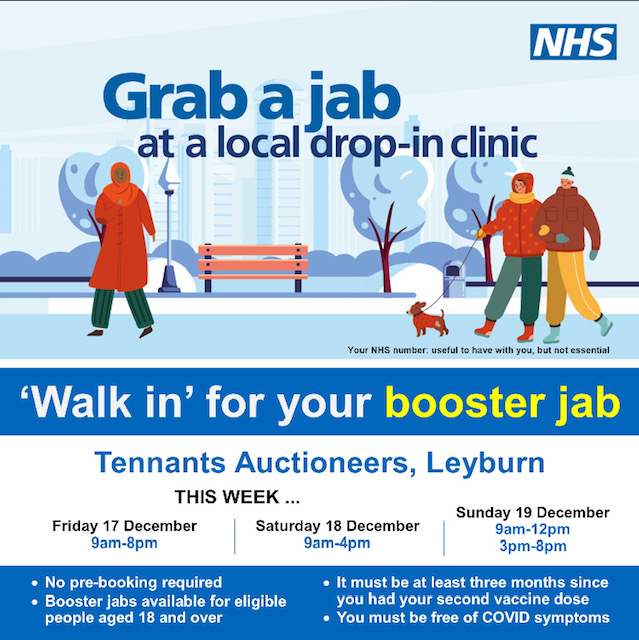 Walk in Clinics
Walk in COVID 19 Booster Clinics at Tennants, Leyburn
Tuesday 7th December 2021
Wednesday 8th December 2021
Thursday 9th December 2021
Wednesday 15th December 2021
All Walk In Clinics are 9.00 am – 3.00 pm
The clinics are open to anyone, from anywhere for a booster that is AT LEAST 3 MONTHS after having had your second COVID 19 vaccination.
These clinics are also open to anyone over 18 years of age who needs a second Pfizer vaccination where there is AT LEAST 8 WEEKS after the first vaccination.
If you have recently had COVID 19 you must wait AT LEAST 28 days from your positive result before attending for a second dose or booster.
All Boosters are Pfizer.
Covid-19 Vaccinations Latest Information
We are aware that the Joint Committee on Vaccination and Immunisation has recommended the extension of the Covid-19 vaccination programme to 16 and 17 year olds. We are awaiting further guidance from NHS England on when the programme will commence and how the vaccinations will be administered to this age group. Please do not contact Quakers Lane Surgery – eligible young people will be contacted when the programme commences to advise on the next steps.
Guidance on Workload Prioritisation during COVID-19
The initial pandemic peak in the spring saw a reduction in the breadth of GP services offered as general practitioners and their teams focused on infection prevention and control in order to keep staff and patients safe and prioritised workload to focus on the clinical priority of responding to COVID-19 whilst keeping essential core services running.  Patients have been largely accepting of these changes, understanding the need for GP practices to operate in different ways and to only use face to face consultation methods where clinically necessary.
During the summer months, as the pandemic level reduced, there was a restoration in most practices of GP services to pre-COVID-19 levels, with an accompanying marked rise in non-clinical workload.
We also saw the widespread continuation of new consulting methods.
Responding to the second wave
We are now experiencing the second wave of the pandemic at the same time as we encounter the usual winter workload pressures.  We must also recognise that we are working in a different national context.
General Practice is OPEN
General practice remains open and patients will be seen face to face where it is clinically appropriate.  We encourage patients with potentially serious symptoms to contact us to enable an assessment.
During coronavirus, many routine appointments and reviews have been cancelled or postponed.  We know this may be worrying but you will be able to reschedule as things get back to normal.  In some areas, these appointments are being held over the phone or by video call instead.
If you have more urgent care needs please don't hesitate to contact the surgery.
International Travel
From 17 May international travel will be permitted to a limited number of countries and in some cases proof of Covid-19 vaccination will be required. The mechanism for proving your vaccine status is through the NHS app. For those who cannot access the NHS app you can request written proof that you have received your Covid-19 vaccination by contacting the NHS on 119. Please do not contact your GP practice. You can find out more at:
https://www.gov.uk/government/news/government-confirms-traffic-light-list-ahead-of-cautious-return-to-international-travel
Covid Vaccination Booster Programme
The government has announced that some people will be eligible for a booster dose of the Covid-19 vaccine. The booster programme will follow the same priority groups for rollout and in the same order as the one advised by the Joint Committee for Vaccination and Immunisation (JCVI) for the initial Covid vaccination programme and will take place at least six months after the second dose for eligible patients:
Those eligible for a booster dose will be cohorts 1 – 9 from the initial vaccination programme:
Residents in a care home for older adults and their paid carers
All those aged 80 and over and front line health and social care workers
All those aged over 75 and over
All those aged 70 and over and clinically extremely vulnerable individuals
All those aged 65 and over
All those aged 16 – 64 with underlying health conditions which put them at serious risk of serious disease and mortality from Covid-19 and unpaid carers
All those aged 60 years and over
All those aged 55 and over
All those aged 50 and over
The NHS is currently developing the booster programme and identifying sites for the vaccinations to take place. There are likely to be a mixture of sites as with the initial programme including GP led, community pharmacy led and large vaccination sites. You will be contacted when it is your turn to come forward and there is no need to contact your GP practice.